Actuarial Sciences for Africa (ASA)
Aktuarwissen für Afrika e. V.
Sciences Actuarielles pour l'Afrique (SAA)
Welcome to the Actuarial Sciences for Africa's Website
Dear visitors,
I am glad to welcome you to our website on behalf of the Actuarial Sciences for Africa.
In the meantime about
70
people are engaged in the implementation of this idea on an honorary basis. An important step was the foundation of the Association Actuarial Sciences for Africa in February 2007. Yet a lot of work still remains to be done.
A project of this kind cannot be successfully realised without the support from the economy, politics or other friends and promoters in form of financial supports or ideas. Our plan aims at the goal that this project will be able to finance itself after a start-up period of five years and can be carried on under the direction of a local actuary association.
Our website will keep you informed about the development of the project.
You are warmly welcomed to study our project and what has already been achieved so far.
We look forward to hearing from and get into conversation with you here on the internet or meeting you in person!
Guillaume P. N. Moussa
President of Actuarial Sciences for Africa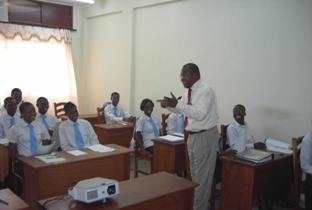 (Picture: The President of ISM Adonaï with the students)
WEBMAIL ACCESS
Navigation
Recent News
Recent Project News: recent news (.pdf)